Research Internships for Undergraduates (REU)
Haystack Observatory invites all interested undergraduate students to apply for summer research positions in science, engineering, and computer science. Our REU program has been held for decades, and we have seen many of our student interns go on to rewarding careers in STEM research.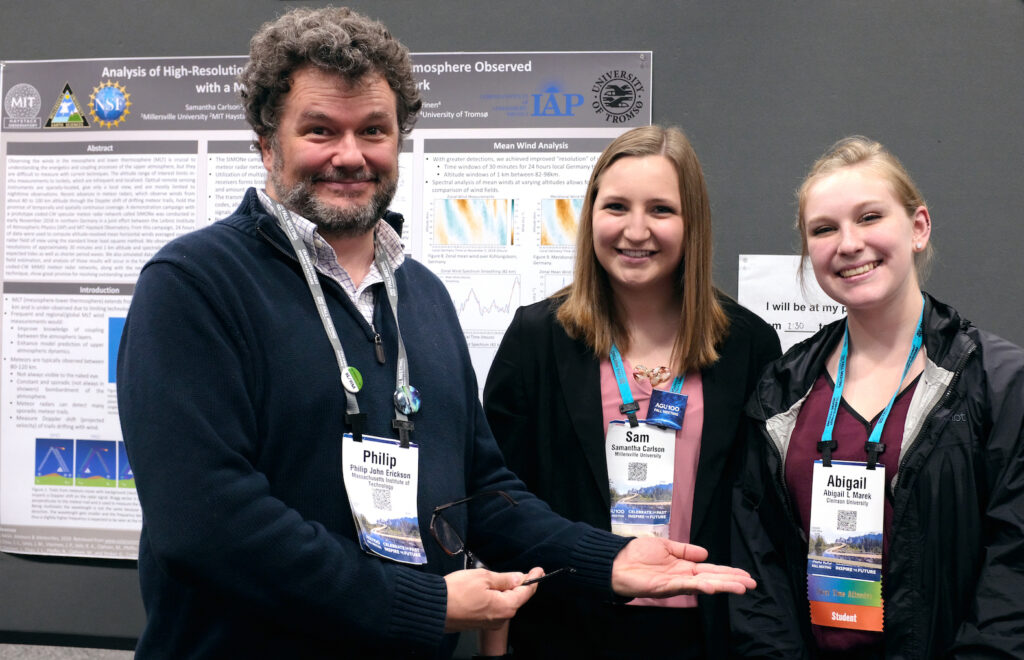 The program extends from early June to mid August. People from groups under-represented in STEM fields are encouraged to apply. Undergraduate students eligible for this program must not have graduated prior to the start of the summer internship in June.
Students majoring in astronomy, space physics, physics, computer science, mathematics, mechanical engineering, electrical engineering, and many other fields have enjoyed working in this REU program over the past two decades.
REU projects
REU summer projects from past years are available in the presentation archives.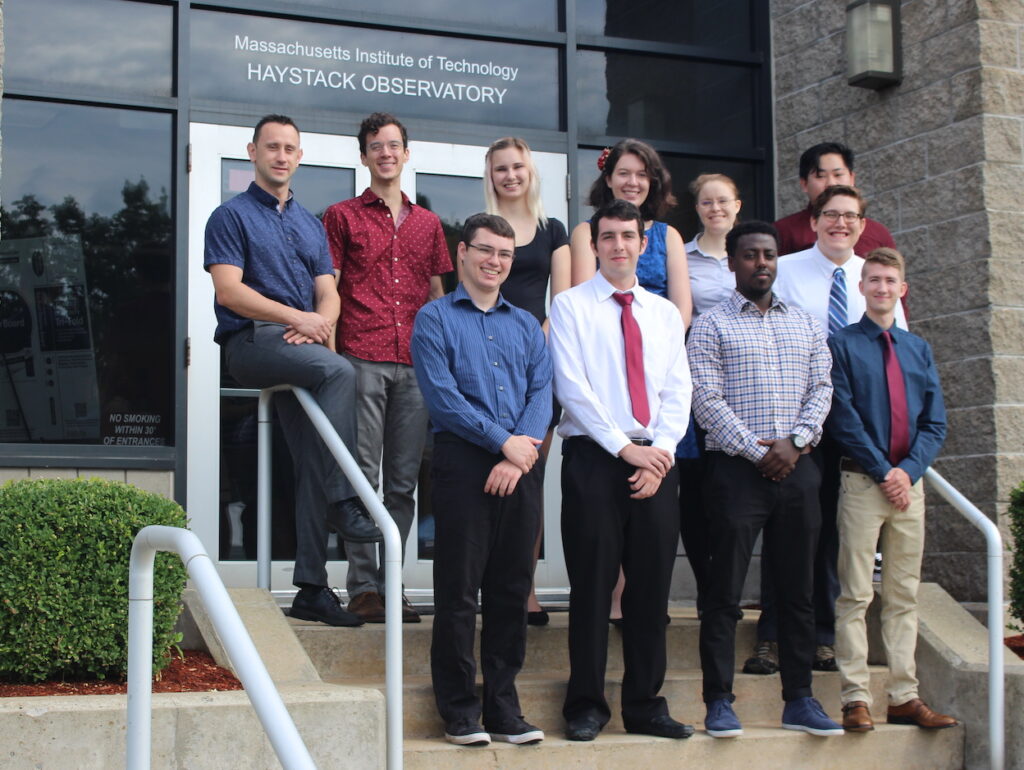 Support is provided by the National Science Foundation's Research Experiences for Undergraduates program. The National Science Foundation, which sponsors this program, requires U.S. citizenship or permanent residency to qualify for positions supported under the REU Program. Undergraduate students eligible for this program must not have graduated prior to the start of the summer internship in June.
MIT is an equal opportunity/affirmative action employer.
Program details
Please see the following sections for general information about the Haystack REU program. (Note that all information on this page is subject to change if necessary.)
FAQ
Q: When can I apply for next summer?
A: Applications are made available on Thanksgiving each year for the following summer.
Q: My institution is on a quarterly system (or another schedule). This means that I won't be available on the exact start date. Can I still apply?
A: Yes, please apply to the program. Make a note of your possible start date in your statement letter. The mentors will determine whether your earliest possible start date is acceptable within the requirements for their project. We prefer that people be available for the actual start date but realize that some institutions' schedules make this difficult.
Q: Do you accept international students?
A: Unfortunately our sponsor, the NSF, requires applicants to be a U.S. citizen or permanent resident to qualify. We won't be able to respond to inquiries regarding this.
Q: How is "undergraduate student" defined for this application?
A: An undergraduate student is a student who is enrolled in a degree program (part-time or full-time) leading to a baccalaureate or associate degree. Students who are transferring from one college or university to another and are enrolled at neither institution during the intervening summer may participate. High school graduates who have been accepted at an undergraduate institution but who have not yet started their undergraduate study are also eligible to participate. Students who have received their bachelor's degrees and are no longer enrolled as undergraduates are not eligible to participate. Undergraduate students eligible for this program must not have graduated prior to the start of the summer internship in June.
Program schedule
The Haystack REU program starts in early June and ends mid-August.

The 2020 REU program at Haystack started on June 8, 2020, and ended on August 14, 2020.
A uniform start date is preferred in order to conduct orientation activities for the group. For students on an academic quarter system or those interested in extending their stay, such requests can be considered on a case-by-case basis.
Program highlights
The Haystack summer undergraduate internship includes participation in the following:
Science discussions: Haystack staff members lead discussions on numerous current research subjects, which include introductory information for all students, as well as a chance for active conversation with scientists, engineers, and other staff.
Tours: Students will attend tours of the various Observatory facilities to learn about the extensive state-of-the-art instrumentation at Haystack.
Group meetings: In addition to the frequent meetings between the sponsoring staff member and the student, several meetings with all students are held to review project status and encourage interactions among the students.
Final reports and seminar: Students prepare brief final reports and create presentations on their projects to teach the Haystack community about their summer work.
Attendance at conferences: Depending on available funds and meeting schedules, there are opportunities for students to participate in national conferences.
Follow-up academic year program: Depending on available funds, interest, and project status, a student may continue the summer project during the following academic year.
Travel support: Limited travel support is available for those students whose homes and colleges are more than 100 miles away from Haystack.
Student projects
Students are assigned a mentor from the Haystack research staff for their summer work.
At the end of the summer, students present their research to a general audience at the Observatory. Their presentations are available in the REU presentation archives.
Stipends
Compensation is provided as a weekly stipend of $500, paid biweekly.
Housing
The Observatory makes arrangements for student dormitory housing and pays the cost of housing for all students. Kitchen facilities are available in the dormitories. Daily transportation to and from Haystack is also provided.
(Students can arrange alternative housing on their own if they wish.) 
Transportation
The Observatory provides free daily transportation for all students from REU housing to our offices.
Health insurance
Accepted students must have a current medical insurance plan in place which will cover their health needs during the period of the REU program. Evidence of such insurance must be submitted upon acceptance, before the start of the program.